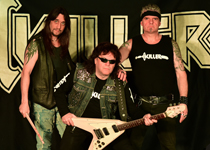 The last Killer studio album released in 2015, entitled "Monsters Of Rock", the seventh in their career, marks the band's 35th anniversary. This was the last release at the famous "Mausoleum" label. Mausoleum does not exist anymore due to the death of the label boss and owner "Alfie Falkenbach".
A Brand new 8th album will be released on 27/1/2023 by the British "Cherry Red" label. The title of the album is "HELLFIRE". There is also an extra free bonus cd included in the box with "the best of from the years 1980 to 2015" containing most of the more famous songs of the band and even a few of these songs are re-recorded with the actual line-up. A must have for all the fans I should say.
Cherry Red also released 2 boxsets with each 4 cd's containing the full back catalogue of Killer and also the solo album of Guitar player Shorty
When guitarist and vocalist Paul "Shorty" Van Camp, and drummer Fat Leo, originally formed Killer from the remains of a heavy-blues-rock outfit called Mothers Of Track, they never anticipated that more than three decades later the name of the band would still ring hells bells in the minds of innumerable fans around the world.
The very heavy power trio was born when Shorty and Leo enlisted bass player and second vocalist Spooky. Adored by a myriad of loyal fans all over the world, and loathed by just as many scathing critics, who more often than not compared them to a continental poor man's Motorhead, Killer became one of Belgium's all-time most successful hard-rock export products. Although they liked and respected Lemmy's outfit, Killer were actually more enthused by Saxon, Iron Maiden, and other pioneers of the NWOBHM (New Wave Of British Heavy Metal), but being an extremely loud trio, and with their trademark growling vocal delivery, they never wholly escaped the comparison until latter days when they reinvented themselves as a quartet. Killer actually always took it more as a compliment then an insult, Motorhead being another one of those rare surviving dinosaurs that still excite fans galore, while lesser bands as well as large numbers of rock-music-journalists are long extinct.
The release of their first two albums: "Ready For Hell" and "Wall Of Sound" - the second recorded with a new powerhouse drummer Robert Cogen, who was most appropiately nicknamed "Double Bear" and who had reently replaced Fat Leo - literally turned Killer into a heavy-metal-household-name. Other bands hailing from Belgium, such as Ostrogoth and Crossfire - both also on the Mausoleum Records label – enjoyed comparable success of a global magnitude, and for a while fans in Japan even thought that NWOBHM stood for "New Wave Of Belgian Heavy Metal" -No joke!
In those days Killer were innovators, playing melodic speed-metal long before bands like Metallica rode the genre to the ultimate pinnacle of success.
The third album, "Shock Waves", proved immensely successful as this time around both fans and critics unanimously lauded the album as a very-heavy-metal-masterpiece. On the back of it's release the band played prestigious festivals, toured the whole of Europe, and sold albums from Tokyo to Rio De Janeiro and from Moscow to New York, and just about everywhere in between.
Next, Killer was ready, willing and able to have their imposing live sound captured for release on a double live album to be called "Still Alive In Eighty-Five". A live performance of audacious magnitude was recorded by the Dieter Dierks mobile recording unit at a one-night-only sold-out show at the Hof Ter Lo hall in Antwerp. During the encore over a hundred elated fans were on stage with the band, joining in on the rhythmic refrains. Additional sessions were booked at ICP studios In Brussels for producer Jos Kloek to mix the recordings. By that time though the parent company of the Mausoleum Records label had encountered insurmountable financial difficulties. The label couldn't pay the studio for the mixes to be completed. In the end only four tracks were ever mixed, and over the years the multi-tracks went missing. In April of 2002 these recordings ended up as bonus tracks on the reissued version of the "Shockwaves" album then commemorating The Mausoleum label's 20th Anniversary.
Killer soldiered on and experienced one more climax before going into deliberate if transitory retirement; the invasion of Poland in 1986, where - every night - they played for captive audiences numbering no less than 10.000 eager fans.
By 1990 the Mausoleum Records label had made a comeback, and so had Killer. A year earlier Shorty and Spooky had recruited new drummer Rudy Simons, and added Jan Van Springel as second guitar player to the line-up. Killer's fourth album, "Fatal Attraction" was the first release on the second coming of Mausoleum Records, and sold very, very well.
By 1991 though Grunge music ruled the world and Killer took a step back once again. Later that year however Shorty, under his last name: Van Camp, released a solo album entitled "Too Wild To Tame" on the CNR label. The album sounded as if it could have been Killer, volume IV, but the album was never widely available outside the Benelux countries so it was a treat for Killer aficionados around the world when no less than four selections from the Van Camp album were included as bonus tracks on the 2002 re-issue of "Fatal Attraction".
In 1993 Shorty and Spooky went back to their roots and played in a Blues-Rock outfit called Blues-Express but musical differences kicked in, and they went their separate ways in 1996. Killer played occasional "by popular demand" gigs with a new drummer, "Vanne"
On May 10, 2002, a reformed Killer were joined by Doro (Warlock), headlining the sold-out Mausoleum Records 20th Anniversary Concert at the Biebob Club in Vosselaar, Belgium. The overwhelming success was a shot in the arm and a decisive and motivating factor for the band to stick together, write new material, and ultimately break a decade of silence with the recording of the brand-spanking-new album: "Broken Silence".
Released in May 2003, "Broken Silence", the band's first new album since 1991, featured great anthem-like songs, but also introduced keyboards - a lot of keyboards! Some fans, who came to see the band play live at festivals such as "Graspop", "Headbangers Open Air" and "Keep It True" - voiced a certain disappointment that the classic Wall-Of-Killer-Sound had been diluted by the addition of the keyboards. Still Killer played a lot of gigs on the back of the album sharing the stage, with among others the likes of Dio, Motorhead, Queensryche and Doro.
In 2005 the band was ready for a follow-up, which they decided to record in Germany, enlisting a young Kristian "Kohle" Kohlmannslehner to produce it in his Kohlekeller Studio in Seeheim. Once bitten, twice shy, Killer relegated the keyboards to a background role, and with a sound more comparable to the great bands of the 70S such as Uriah Heep, Deep Purple and Rainbow. The producer's sole instructions were to make sure that Shorty's un-matched trademark guitar sound regained the prominence it deserved, and should dominate the album's overall sound. And so, during those cold winter months of January and February 2005, Killer recorded a scorching album, on which the blistering guitar work continuously decorates the hymn-like songs. Killer got it right again, and "Immortal" was the album that got them back on the right track.
In 2010 original bass player Spooky once again left the band after a short return and was replaced by Ian Anthony. Since then Shorty (guitar and vocals), Vanne (drums) and Ian (bass) have continued gigging relentlessly, regularly also playing festivals around Europe.
In 2015 Killer released their splendid 7th album "Monsters of Rock" The album title says it all, no other explanation necessary. Killer are real monster of rock and of metal. The album is very powerful with a lot of variety and a very old school feeling.
And now, celebrating 43 years of "We-take-no-prisoners" hard rocking heavy metal, Killer returns with "HELLFIRE". Recorded at Vanne's home studio and Produced by Shorty and Vanne. The album packs a powerful wallop, carrying on in the classic tradition of "Ready For Hell", "Wall Of Sound" and "Shock Waves". The spirit of 1980 recorded with the technical capabilities of 2023 - Hard rockin' heavy metal does not get any better!